Resource Management
Autonom is a nationally positioned company. As a result, with 43 locations in direct use, we are aware of the impact our company generates in terms of energy consumption (electricity, gas and fuel). We constantly strive to monitor and reduce energy consumption and explore solutions to increase the use of renewable energy sources to power them.
Furthermore, we are constantly striving to optimize fuel consumption both in our own fleet and in the operational fleet in direct use by our customers. We encourage alternative mobility solutions and focus our efforts on better managing the existing fleet and optimizing its utilization.
In 2021 we implemented and certified our environmental management system according to ISO 14001. In doing so, we have identified the environmental issues relevant to the business and the significant impacts and have developed appropriate control and monitoring mechanisms to reduce the environmental impacts as much as possible at the operational level.
Energy and fuel management
We are aware that we need to involve consistent resources in managing all the energy and fuel involved in our business daily routine, in order to reach a level of optimization in this regard. We continuously work on maintaining appropriate database tools which can offer us a straight overview regarding our level of consumption, highlighting the areas which need improvement.
Energy consumption
Energy consumption arises in the operational activities of our agencies where we work. We consume energy for lighting, running office equipment and other business-specific equipment. Energy consumption also arises from heating or cooling functional spaces. In order to be able to actively engage in field activities that involve traveling to subcontractors, customers or certain vehicle dealers, our employees use vehicles from our own fleet, thus resulting in energy consumption (diesel, petrol or electricity) that is considered to be a direct environmental impact of our activity.
On the other hand, we provide our customers with vehicles under operating leases or rent-a-car, the consumption allocated to them representing an indirect impact for Autonom in the value chain.
Based on our recently implemented environmental management system we quantify these energy consumptions and assess their magnitude. We have a traceability of this data that is constantly tracked. On the other hand, we quantify the direct or indirect environmental impact generated using as an indicator the CO2 emissions generated as an absolute value and as a net value per km traveled. This impact is quantified annually considering the GHG Protocol Standard. Based on these assessments, we are able to have a complete and accurate annual traceability of our environmental impacts and to design medium and long-term mitigation programs and projects to counter climate impacts.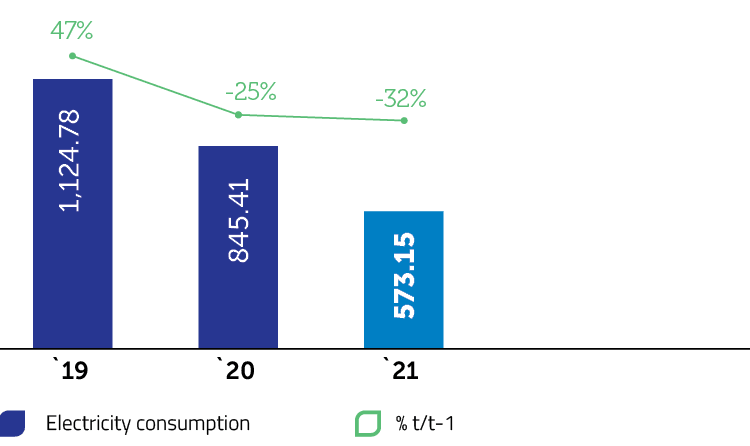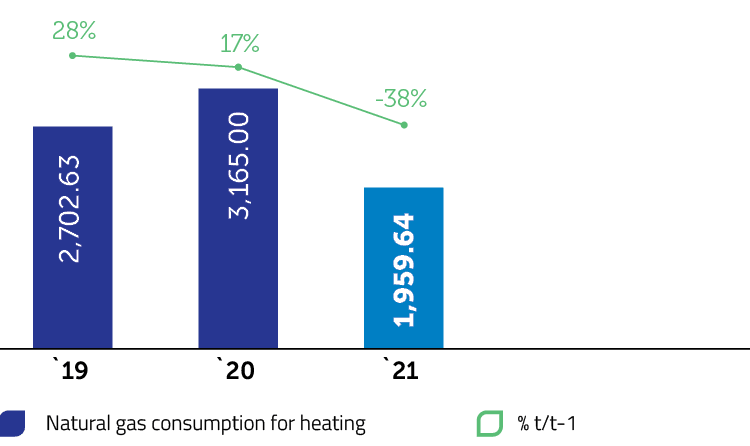 As a contribution and new initiative we have equipped the headquarters in Piatra Neamt with photovoltaic panels, with an installed power of 40 KW and switching to the option of prosumer, becoming operational in July 2021.
The amount of renewable energy produced by the end of 2021 at the Piatra Neamt site was 11 MWh. In 2022 we will add more photovoltaic panels and increase the installed capacity by 20 KW, and in 2023 we will reach 100 KW. We are considering expanding this mode of renewable energy supply to all locations where it is feasible.
In 2021, we used a hybrid working mode (office/home) for most of our locations. This has had a direct, beneficial impact in the form of a decrease in energy and natural gas consumption at our offices by more than 30% compared to the previous year.
We have also asked energy suppliers to provide us with certificates of origin for the energy consumed and we will get the first data from March 2022.
Sustainable fleet
We are aware of the high volume of fossil fuel that operational value chain activity generates. As a result, in addition to our ongoing efforts to optimize it, we also continued our partnership with Climate partner, for fuel run through our partner OMV Petrom, as a result of which we have compensated, at the 2021 level, the equivalent of 3,972.7 tons of CO2e.
Fuel consumption for the company fleet
Fuel consumption for the company fleet, liters/year

Autonom

2019

2020

2021

Petrol

4,337

11,634

15,243

Diesel

34,555

21,669

39,906

Electricity

0

0

0
There is a growth consumption of fuel related to its own fleet, partly justified as a natural consequence of gradual return to normal pre-pandemic activity. However, the total direct impact on the operational fleet is insignificant, remaining below 1% of CO2 emissions.
Fuels used at customer fleet level
Fuels used at customer fleet level

Autonom

2019

2020

2021

Petrol (liters/year)

2,942,521

2,812,360

4,251,897

Diesel (liters/year)

8,222,125

7,750,578

10,210,978

Electricity (kWh/year)

18,672

78,738

1,667
The same increase in fuel turnover can be observed in the fleet operated by operational leasing and rent-a-car customers, with the same obvious rationale of gradual recovery of business and operational activity.
An observation that may reinforce this justification is that the growth rate in the number of kilometres travelled by Autonom customers increased, on average at fleet level, by 40% versus the previous year, while the growth rate of the fleet was much lower (7.66% for the operational leasing fleet and 25.85% for the car rental fleet).
In terms of fleet evolution by main business activities, it is obvious that the operational leasing fleet accounts for 75% of the total car fleet.
31st of December

2021

2020

Total number of car fleet

9,672

8,656

Annual turnover of the car fleet

11.74%

-4.5%

New entries in fleet

2,776

1,999

Exits of used cars

1,760

2,407

Share of operational lease activity in total fleet

74.78%

77.61%

Share of rent-a-car activity in total fleet

25.22%

22.39%