Care for the Environment
We, as an organization, are committed to contributing to a better, cleaner and safer world, a place to happily live and work.
The environmental pillar is a strategic pillar for Autonom, and the overall objectives we have set ourselves are:
Reducing our environmental footprint will be driven by responsible consumption of the resources we need for our operations;
Raising awareness of climate change and setting priorities to reduce the carbon footprint
We are aware of the impact we are having on the environment through our day-to-day business, which is why, in conjunction with the global concern about climate change, we want to act preventively and transform our business so that we do not reach certain tipping points from which this would no longer be possible in a healthy and prudent way.
By encouraging the integration of the concepts developed through the sustainability strategy into all aspects of our business, we ensure that we have a common language in the actual implementation of these concepts in our lives and in our daily work. Furthermore, we encourage employees and partners we interact with to extend sustainability concepts into their personal lives. We believe that continuing education remains the key to a higher quality of life, while protecting and conserving natural resources.
We have taken concrete actions to reduce the negative environmental impact of using the fleet provided to the company's customers and have internally designed scenarios for fleet substitution and transition to a greener, low CO2 fleet.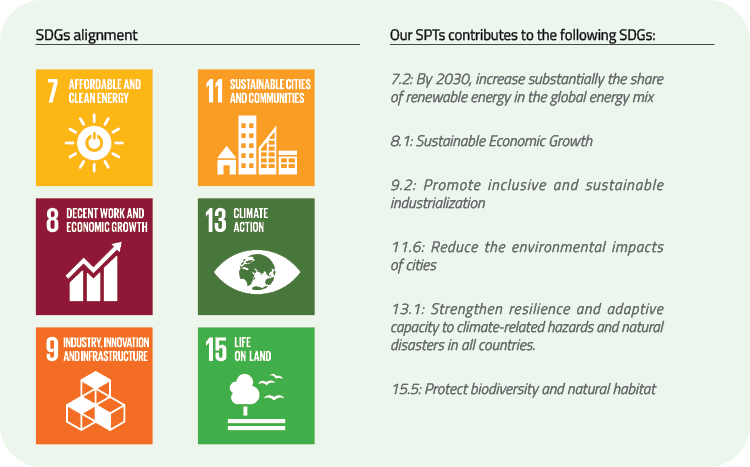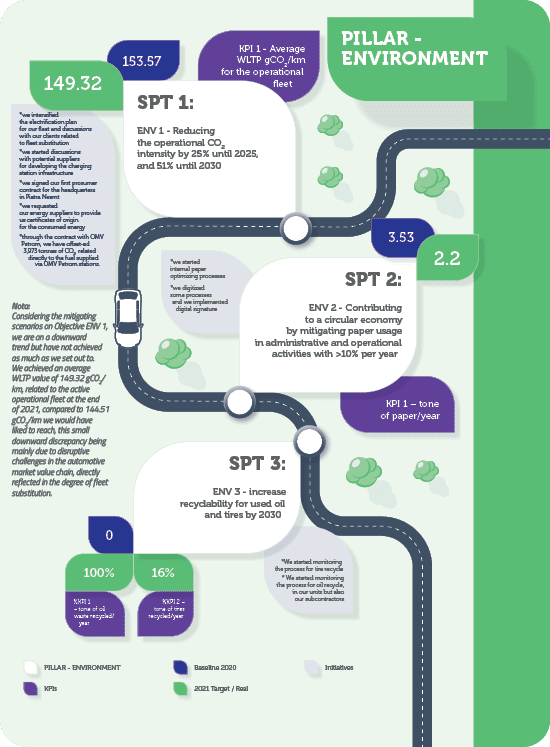 Furthermore, we have analyzed the long-term business development plan and opportunities and we are committed that the objectives we are pursuing through our sustainability strategy, with a time horizon of 2020÷2025÷2030, are ambitious and aligned with international initiatives and standards in the field.
All this against the backdrop of a gradual recovery in the activity of all economic agents, confirmed by a higher mileage turnover than in the pre-pandemic period. In this context of growth, the downward trend in emission intensity/km confirms our medium and long-term commitment: To reduce operational CO2 intensity by 25% by 2025 and 51% by 2030, calculated as WLTP average value.
It should also be mentioned that the real impact on possible actions was limited in terms of time horizon, in view of the development of the Strategy in the second part of the year and its actual implementation by the end of 2021.
We are confident that, as the market context allows, the transition to a green fleet, by integrating as many electric and low-emission cars as possible, will be increasingly smooth and will give us the support we need to accelerate our actions towards our targets.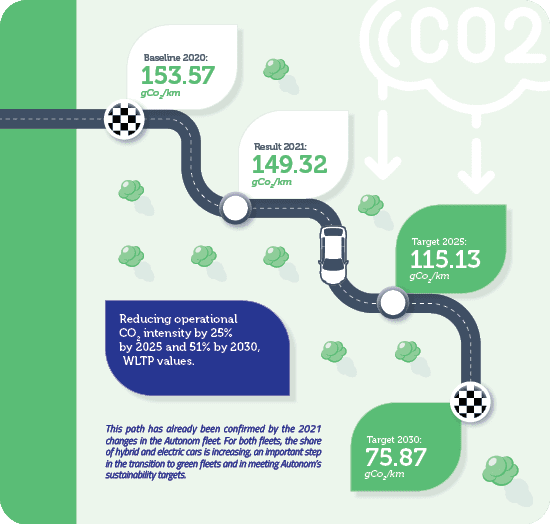 Progress: