Sustainability Strategy
From the inception of our company, Autonom's vision was to be an authentic business model and have a positive impact in our environment and community. Engaging in our communities, mainly by supporting education, is an important part of our organizational culture.
In the 9 years that passed from the start of the Autonom Foundation, through which we developed educational and environmental projects, we managed to get involved in over 630 projects in the communities we belong to. Because we all want to contribute to developing education, our team of volunteers is, in fact, the employees' team of Autonom.
In 2021 we developed and published our Sustainability Strategy, with a long-time horizon 2030 and an intermediate calendar 2025, aligned with the Sustainable Development Goals of 2030 Agenda. We chose 2020 as the baseline for the starting point.
Strategic Sustainability Pillars of Autonom Services
The Sustainability Strategy of Autonom is aligned with the performance matrix of our organizational culture and with the environment, social and governance principles (ESG), considering, at the same time, the alignment with the most relevant sustainable business strategies of the EU.
It is built up around three pillars: "environment", "people and community" and "sustainable business and governance" and the environment part is an important direction for our future decisions and actions.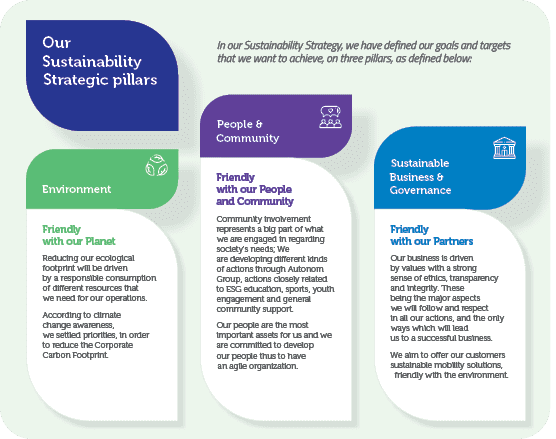 Regarding the environment, our focus goes to responsible consumption of resources needed for our daily activities. The necessity imposed by this measure is also confirmed by the fact that emissions generated by the operational fleet (operational lease and rent a car), as calculated per CCF, even though indirect for Autonom, represent 99% of our total emissions.
Thus, our main priority is to reduce the emissions of the operational fleet with 25% by 2025 and with 51% by 2030, especially by increasing the share of green vehicles in our operational fleet.
The second main direction for us represents people and community. Even from the beginning of our company, we wished to establish a framework in which people may evolve daily and generate positive impact in the communities we belong to, through supporting education and reducing our impact in the environment. In order to accomplish our educational programs, we plan to invest at least 2% of our net profit, while for personal development of our employees we set a target of minimum 50h annual training / employee.
Last but not least, we plan to build a sustainable future along with our partners. Engaging all our stakeholders in common projects around sustainability, monitoring our customer satisfaction (measured by NPS) and increasing the number of digitized processes are some clear actions to take in this direction.
The complete version of our Sustainability Strategy is available on our dedicated website, sustainability section. (www.autonom.com/sustainability)