Our team
At Autonom we promote a friendly and cooperative work environment where our employees feel respected and valued. Autonom's organizational and operating model is based on small teams, autonomy, flexibility, transparent communication and decentralized decision-making, and this allows us to act and implement solutions quickly.
The people in our teams are what keep the company agile, which is why we continually invest in their education and development, driving their continuous evolution.
We are aware that our performance would not be possible without the work of a united team, made up of people who embrace the Autonom vision, guided by strong values, committed to our customers and the communities they are part of.
At the end of 2021, the Autonom team consisted of 370 employees, of which 31.89% were women, and the average age was 30.87. As administrative distribution, employees are grouped as active staff in Territorial Agencies and Headquarters (Bucharest and Piatra Neamt).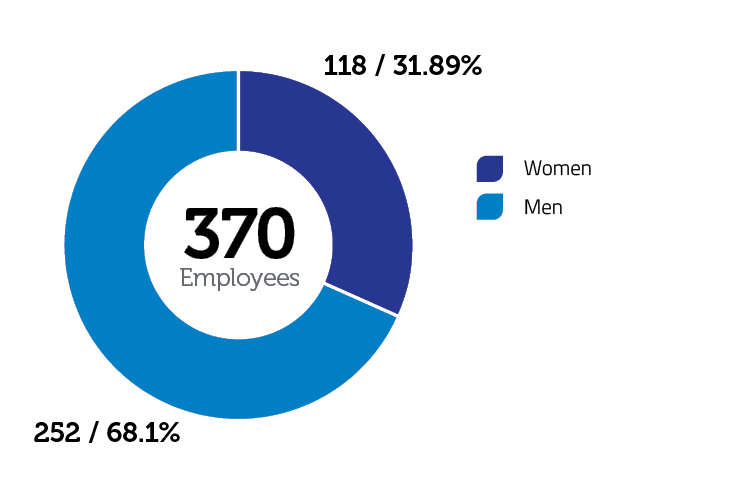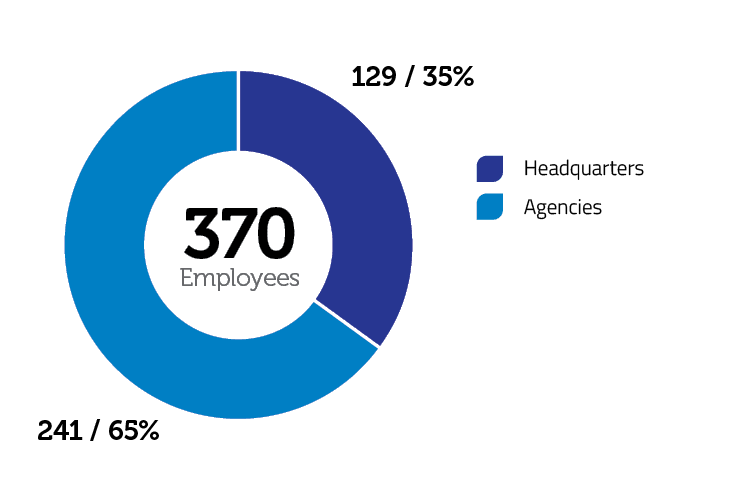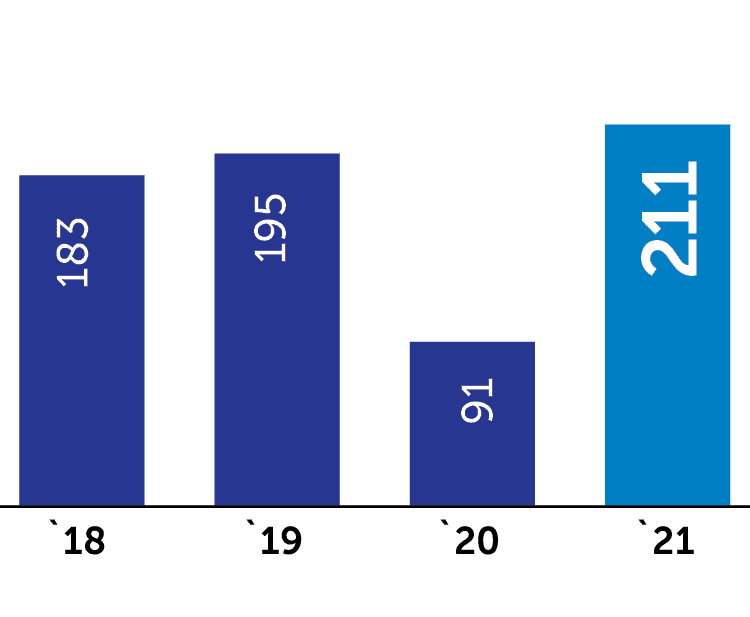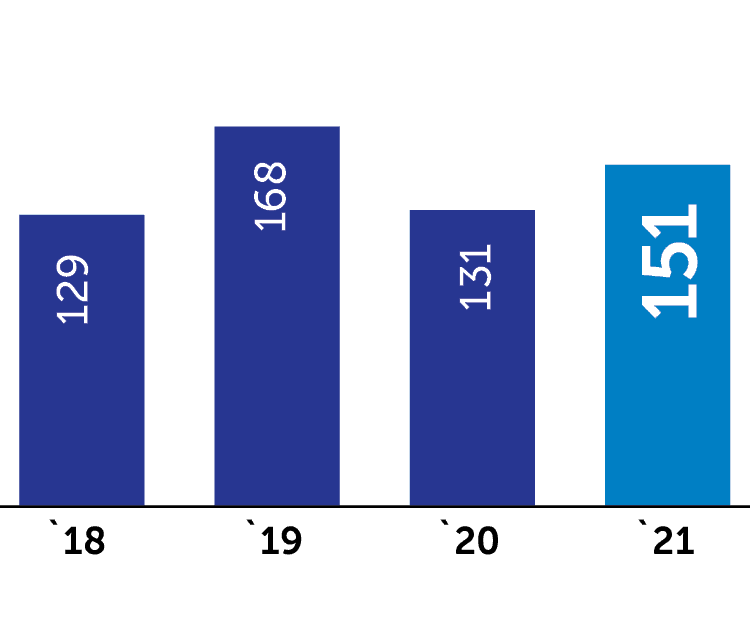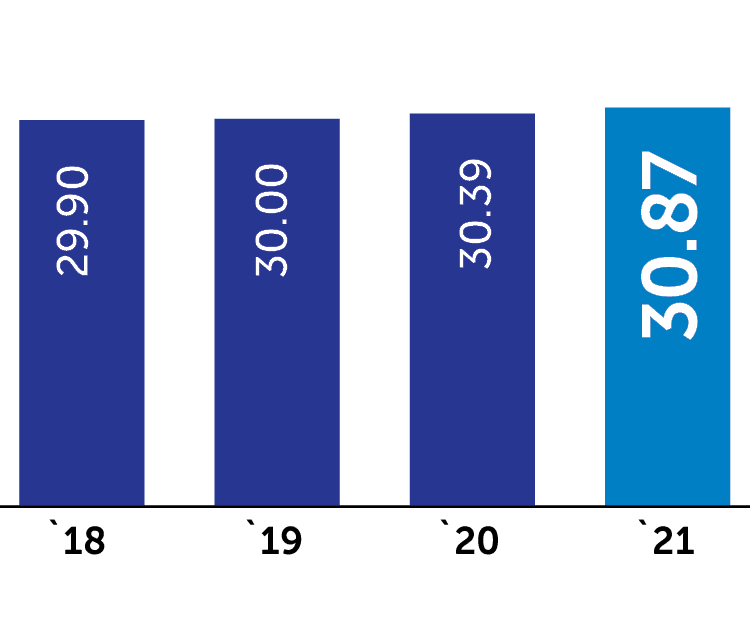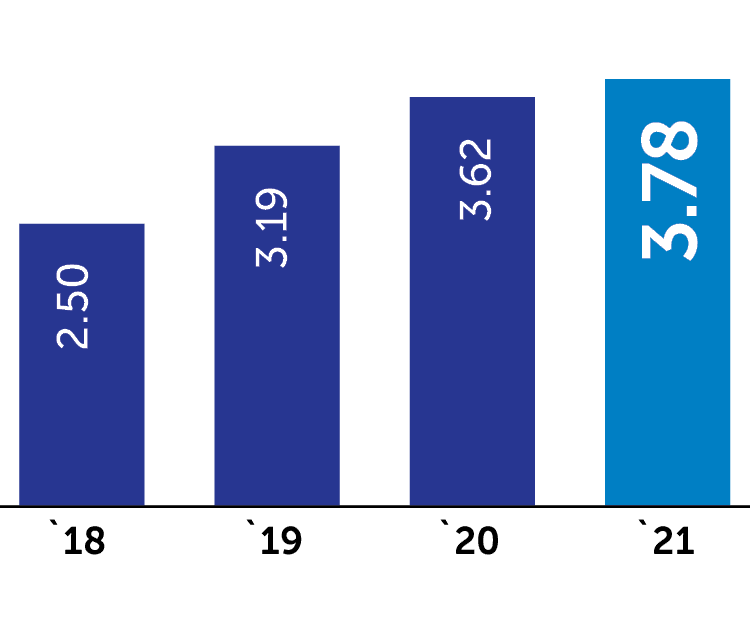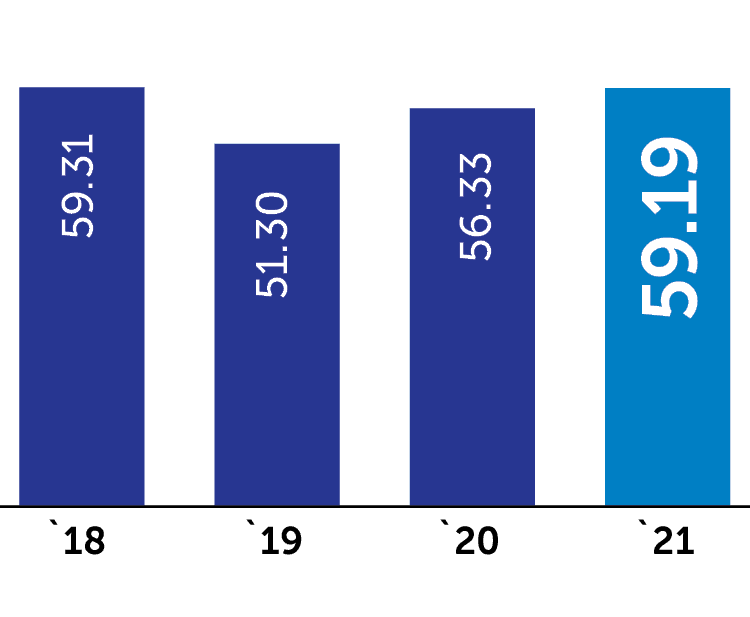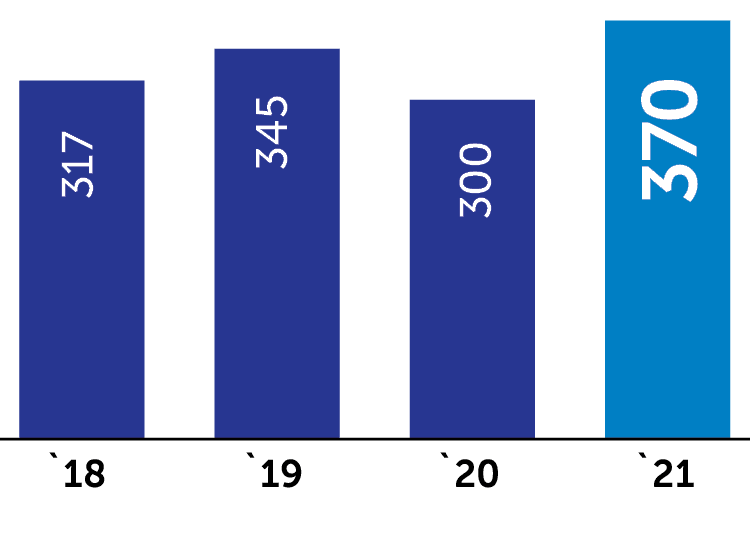 The number of employees increased from the previous year from 300 to 370.
All active contracts at the end of 2021 were signed for an indefinite period and only two employees were registered part-time.
Employees, by working time:
Year

2020

2021

Gender

Men

Women

Total

Men

Women

Total

Full time

205

95

300

251

117

368

Part time

0

0

0

1

1

2

Total employees

205

95

300

252

118

370
The majority of employees are involved in operational activity at the local agency level (65%), while the rest (35%) staff of departments are located in the two head offices in Bucharest and Piatra Neamt.
Employees, by contract type:
Year

2020

2021

Headquarters

Agencies

Headquarters

Agencies

Gender

Men

Women

Men

Women

Men

Women

Men

Women

Permanent

43

57

162

38

57

72

196

45

Determined period

0

0

0

0

0

0

0

0

Total employees

43

57

162

38

57

72

196

45
There is a higher proportion of male employees in the under 30 age group, mainly due to the nature of the work of the service agent post, which is particularly suitable for them.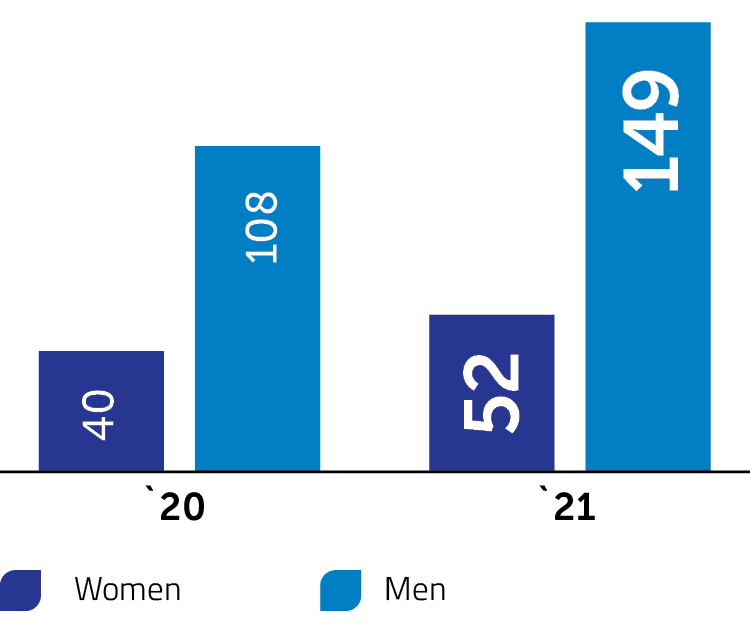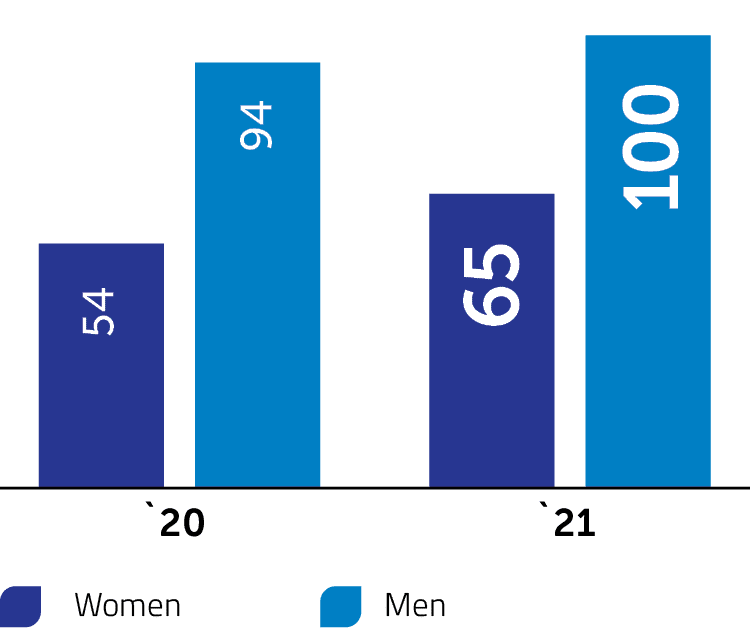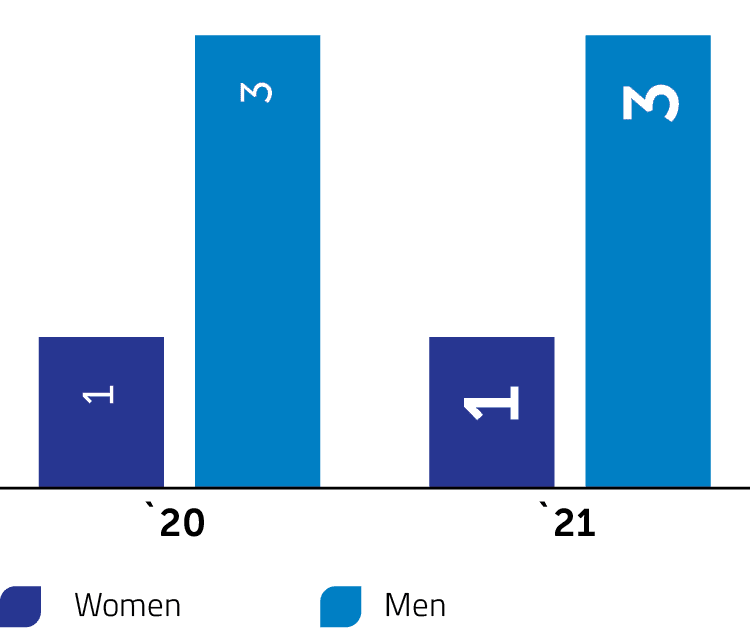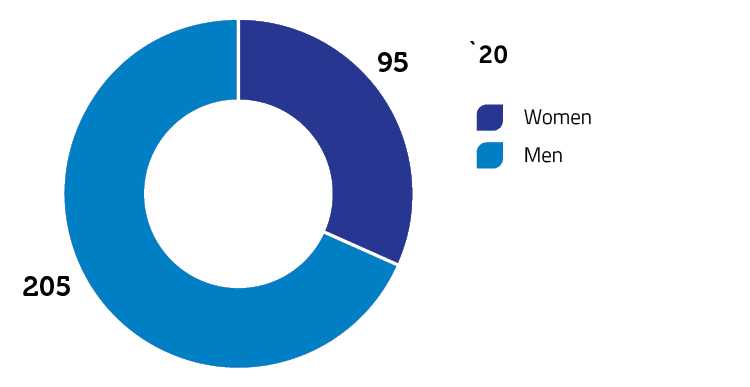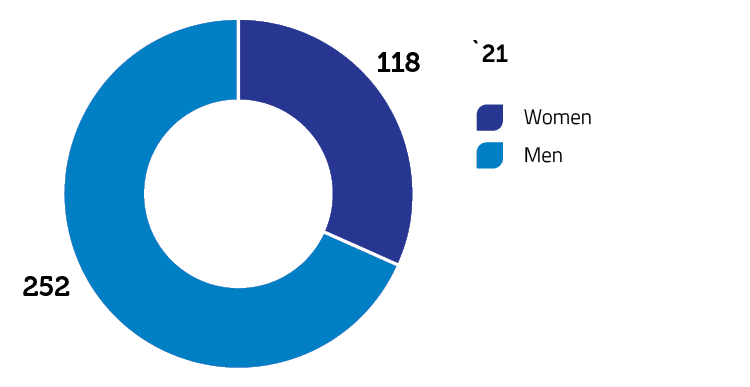 Collective labor contract and employee representation
All Autonom employees benefit from the provisions of the Collective Labor Contract. It is based on combining the values of Autonom Services S.A. with the legislation in force.

When the person becomes our employee, it is necessary to understand and respect the company's values. All employees shall enjoy working conditions appropriate to their work, social protection, health and safety at work, the right to equal opportunities and treatment, and respect for their dignity and conscience, without any discrimination.
Through our policy, we ensure that there is no discrimination in the recruitment, hiring and promotion process on the basis of gender, marital status, sexual identity, religion, political options, ethnicity, race, nationality, genetic characteristics, age, etc. The Company's internal rules include, among others, rules on compliance with the principle of non-discrimination and the elimination of any form of violation of dignity. Thus, no incidents of discrimination were recorded in 2021.
The collective labor contract regulates issues such as the rights and obligations of employees and the employer, and includes, among other things, issues relating to the notice period, consultation and negotiation provisions.
After drafting the documents, in the event of a possible termination, the duration of the notice period until the termination of the contract is in accordance with the provisions of the Labor Code and implicitly, those of the Collective Labor Contract, namely 20 working days for executive positions and 45 working days for managerial positions.
Autonom employees are not organized in a union, but have 4 employee representatives.
Staff turnover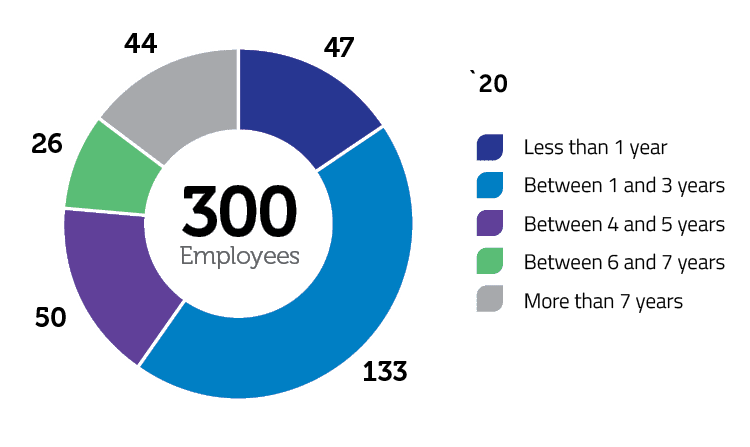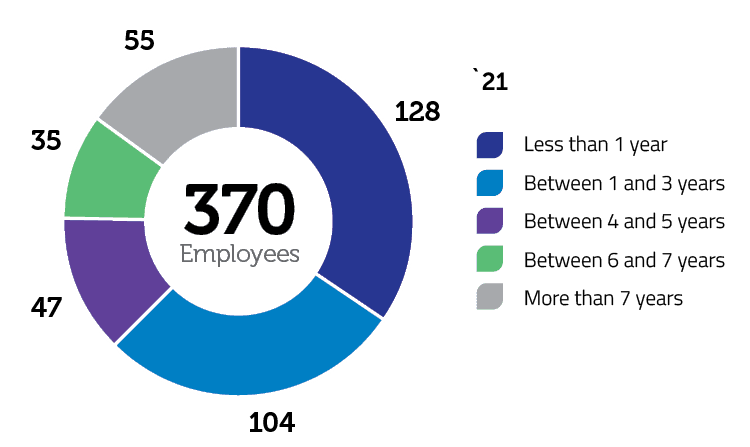 Over the last four years, staff turnover has been relatively constant, in the context of staff volatility in the market, but we are constantly concerned and attentive to the variables, reasons and factors influencing it. The highest rate of turnover, cumulatively, is at agency level, in the male, under 30 category, mostly in 'entry level' customer service agent positions.
Staff turnover, by categories
2021

New employees

Employees leaving

Gender

Number

%

Number

%

Women

41

19%

25

17%

Men

170

81%

126

83%

Age group

Number

%

Number

%

Below 30 years

178

84%

117

69%

30-50 years

33

16%

33

14%

Over 50 years

0

0%

1

1%

Location

Number

%

Number

%

Headquarters

39

18%

32

21%

Agencies

172

82%

119

19%

Total

211

-

151

-
The staff retention rate, calculated according to the formula below, has increased over the last 3 years, from 51.35% in 2019 to 59.19% in 2021.
Staff retention rate = (no. employees at end of year – employees leaving) / no. employees at end of year * 100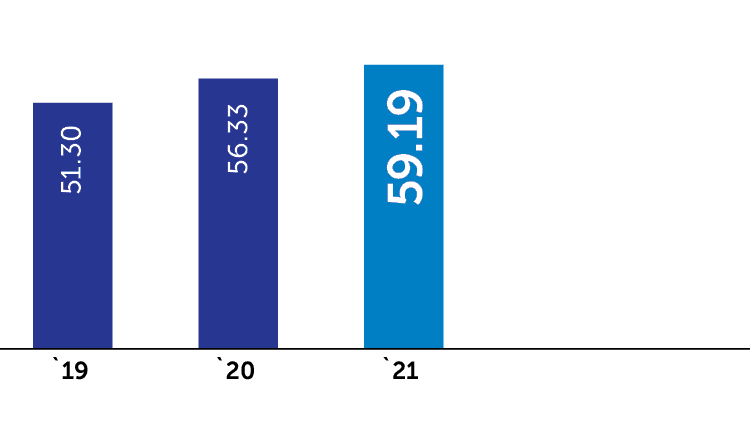 Employee Health and Safety
We value the integrity of our employees, driven by an awareness of their role in the success of our business. Therefore, we always pay attention to their needs in terms of equipment, devices and instructions to ensure a safe workplace.
We are careful to ensure a safe working environment for our employees, with minimal risk of accidents, injuries or occupational diseases. The safety of colleagues is very important to us. At Autonom, we comply with specific national legislation and minimum health and safety requirements.
Employees are trained regularly, according to annual training topics, every 6 months for TESA staff and every 3 months for company car drivers.
We have organized an Occupational Health and Safety Committee, Internal Prevention and Protection Service and Risk Assessor.
The internal Prevention and Protection Service aims to internally assess the risks on health and safety at work for all functions and workstations in the organization and to ensure the best conditions in carrying out the work process, protecting life, physical and mental integrity, preserving the health of workers or other persons participating in the work process.
We aim to move to digitized training from 2022.
In 2021, as in previous years, there were no accidents at work, cases of occupational diseases or deaths that could be attributed to risks or dangers at work.
An established internal project to look after the safety of our colleagues is the course on "Defensive driving". In 2021, 29 in-house courses were held, attended by 316 colleagues. We have also helped to raise awareness of the subject externally by extending the courses to our partners.
Employee benefits:
"We are a team. Respect, common sense and a smile are our secrets" and that is why we want to have colleagues with integrity, who share our principles and values.
The benefits we offer our employees are designed to motivate them, increase their performance and ensure their retention. They are designed to support our employees in various situations encountered in their daily professional and private lives.
The Collective Labor Contract provides the following benefits:


Meal vouchers



Paid days off for special family events



Bonuses



Private health insurance



Private pension package



Pillar III pension fund – company doubles amount, until to the maximum equivalent of 160 lei



Payment of transport costs to/from work



Unlimited access to Autonom libraries



Participation in sporting events and marathons



Preferential car rental rates



50% discount on the gym membership
We have additional insurance for colleagues who work as Customer Service Agents, which covers accidents and hospitalization. The insurance is paid in full by the Autonom.
Parental leave:
In 2021, 5 employees requested and received parental leave. Also, 4 employees returned to work after finishing parental leave in previous years.
| Year | 2020 | 2021 |
| --- | --- | --- |
| TOTAL NUMBER of employees that benefited of parental leave | 10 | 5 |
| Women | 9 | 5 |
| Men | 1 | 0 |
| TOTAL NUMBER of employees that returned from parental leave | 5 | 4 |
| Women | 4 | 4 |
| Men | 1 | 0 |
Remuneration policy:
The general principles for setting the Group's employee remuneration policies are as follows:
Attracting, retaining and motivating the best professionals;

Rewarding achievement of objectives;

Maintaining competitiveness in the remuneration market;

Aligning remuneration with good governance recommendations;

Promoting transparency on remuneration and the criteria for determining it.
Autonom has implemented a succession plan for the top ten managers in the organization. Autonom's management team is a very stable one, with low staff turnover. As of June 2021, Autonom has renamed/reclassified internal functions to provide employees with better career traceability.
A key aspect of Autonom's remuneration policy is that members of the sales team are paid a fixed salary, with no bonuses linked to individual performance. The Group has implemented an annual bonus policy at team level, with each employee receiving a profit share as a bonus at the annual financial year level.
Working Conditions, Wellbeing and Development of Employees
We emphasize a relaxed and friendly atmosphere in the workplace, believing that a positive attitude is the key to our employees' wellbeing. We are also open when it comes to development needs and careful to take into account everyone's professional development goals. We have a substantial training budget available to all employees and we emphasize development as a daily practice, tracking everyone's progress in semi-annual evaluations.
Success for us is defined by the evolution of our colleagues, as a result people growth remains the most rewarding investment and the main factor in the sustainability of our business. Being able to provide the framework in which people can constantly push their limits in the context of accelerated business growth is one of the biggest challenges.
What we set out to do:
To increase the number of education and training programs for employees

To increase the involvement in community development

To promote education by supporting specific programs
2021 was also a year in Autonom where we took full advantage to accelerate the learning and development process of the team.
Training and professional development:
All employees are university graduates or undergraduates. The company pays a lot of attention to the education of its employees and, to this end, we build a learning experience as personalized as possible, through training, coaching, courses and support from company leaders.
In Autonom, the planning process for organizing training programs takes into account aspects such as legislative requirements related to certification and periodic authorization for our field of activity, qualifications specific to the activities carried out, first aid courses or refresher courses in certain areas (GDPR, HSE, etc.) as well as development programs derived from the organization's strategy and aligned to the organizational culture, which aim to strengthen the leadership skills of employees as well as increase their involvement.
Employees, during 2021
| | No of courses | No of hours | No of people | Male | Female |
| --- | --- | --- | --- | --- | --- |
| Total number of training hours for SENIOR Management | 68 | 484 | 3 | 3 | 0 |
| Total number of training hours for employees in Middle Management, departments | 490 | 1,312 | 20 | 9 | 11 |
| Total number of training hours for employees in Middle Management, agencies | 357 | 745 | 18 | 13 | 5 |
| Total number of training hours for employees | 3,853 | 17,718 | 337 | 236 | 101 |
| TOTAL | 4,768 | 20,259 | 378 | 261 | 117 |
Average training hours over 2021, available by gender:
| Employees, during 2021 | No of employees | No of training hours | No of courses | Average hours / employees |
| --- | --- | --- | --- | --- |
| Women | 117 | 7,328 | 2,204 | 62.63 |
| Men | 261 | 12,974 | 2,574 | 49.52 |
During 2021, employee training was predominantly conducted through online sessions – training, webinar, workshop, and these were delivered by both external providers and colleagues as internal trainers.
Evaluation of the quality of the training and the satisfaction of those who participate in the training programs is carried out after each training session. The aspects we take into account are both the quality of the course content and material and the trainer's training and availability.
Example external course / program 2021
| | Average hours |
| --- | --- |
| Impact on coaching research (The Berinde Project) | 48 |
| Individual coaching | 156 |
| English classes | 188 |
| "Coach manager" training | 8 |
| Series of LSI 1 and 2 testing (The Lifestyles Inventory) | 33 |
| Coaching for parents | 7 |
| Project Management | 14 |
| Excel course | 24 |
| Customer Care | 28 |
Internal programs/initiatives: How do we make sure we evolve every day?
In addition to external training on various topics and development programs that give participants the opportunity to progress gradually, Autonom employees have the opportunity to participate in internal programs.
In-house trainings held by Autonom employees
Starting from the premise that teaching is the best way to learn, anyone can give classes in our company on a chosen topic of interest. During this difficult period, when face-to-face interactions were limited, these projects also helped to keep people's energy and morale high.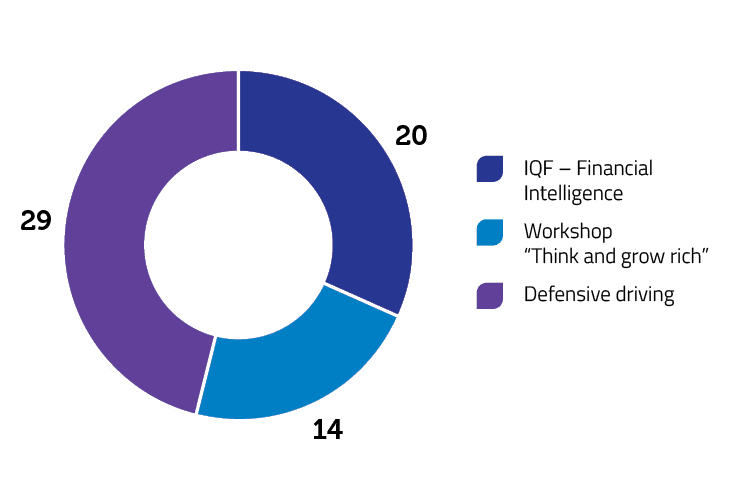 IQF – Financial Intelligence is a project covering both personal and company finance. It is carried out on a recurring basis, alternating training modules, in which we review financial concepts at a theoretical level, with workshop-type modules, in which we deepen the notions covered in the theoretical part.
Intensive Workshop "Think and grow rich" is a pilot project started in October 2021, whereby an internal group, through 18 modules held as weekly meetings, will deepen through open discussions the concepts presented in the book of the same name written by Napoleon Hill (Think and grow rich). After completing the final assessments, participants will receive graduation diplomas.
Book of the month – it is recognized that at Autonom, reading is a job duty. We have a library of business and personal development books available in each office, and the budget to purchase them is unlimited. Colleagues are free to read during the program, and during monthly meetings or semester evaluations, we discuss the books we read and the aha's they gave us. We also have a list of recommended books for new colleagues and beyond available on our website.
Innovation of the month is another recognized project where we encourage the free expression of ideas that have a direct impact on business transformation. On a monthly basis we collect, select and implement innovation proposals received from colleagues. In 2021 we had a total of 790 innovations proposed by our colleagues.
It is also very important to mention that monthly team meetings have a mandatory component of learning and interaction between employees.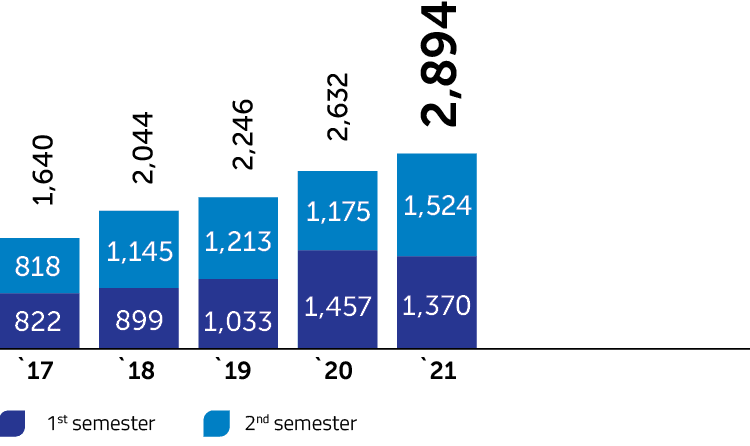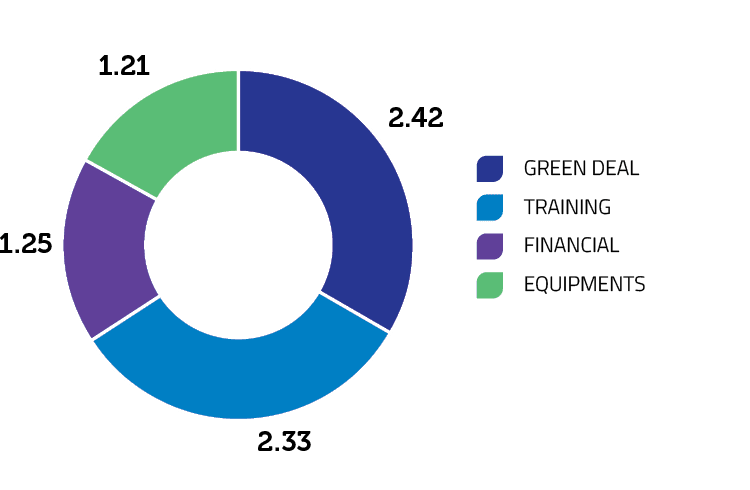 Other examples of internal initiatives:
Daily book recommendation is another in-house initiative to encourage reading and the exchange of ideas discovered in books. Every day, our colleagues play a game where a colleague is nominated to pass on ideas from a book that impressed them. In 2021, 245 books were recommended by our colleagues.
ED Project, Evolve Daily is a daily, short, internal newsletter learning opportunity. ED, in the form of a sympathetic character, gives each colleague the opportunity to write about an idea they have recently discovered in a book they have read / in a course or which has arisen as a result of a personal AHA moment. This initiative started 3 years ago and each nominated team can choose a weekly theme from a predefined list (Organizational Culture, Team Building and Leadership, Wellbeing, Communication and Customer Care, Time Management, Organization and Habits, Financial Intelligence) or propose a customized theme (among which were: The Child of today/ the Adult of tomorrow, behind the scenes of Marketing or the Autonom Foundation). In 2021, 234 episodes were submitted and the average open rate was 57.20%.
The OM (human) behind AutonOM is a series of interviews with our colleagues to get to know each other and learn from each other's personal experiences. In 2021 we had 30 such interviews.
Performance Evaluation:
Performance assesment is carried out for all Autonom employees, regardless of their position, and the assessment system is laid down in the Collective Labor Contract.
Autonom employees are assessed in terms of job performance based on performance and development objectives, with individual objectives aligned to Autonom objectives (operational objectives, personal development objectives, social involvement objectives).
The assessment process is transparent (it provides precise and clear rules on evaluation and marks are awarded), objective and fair.
The assessment criteria set the framework for ensuring that the requirements of the job, the employee's qualities and the results achieved are in line with an Assessment Sheet.
Assessment criteria:
Performance: Job specific tasks (performed vs. proposed)

Books (read vs to read)

Courses, trainings, new skills

Values

Innovation proposals/improvement

Community involvement

Objectives for the next 6 months
Based on the results of the twice-yearly evaluation and the conclusions of the development dialogue, development needs are identified and included in a personalized Training Plan.
The assessment also contributes to the implementation of the succession plan, which identifies employees who want to take over managerial or specialist positions in key positions. Specific training and development programs are implemented to develop professional and personal skills specific to a position.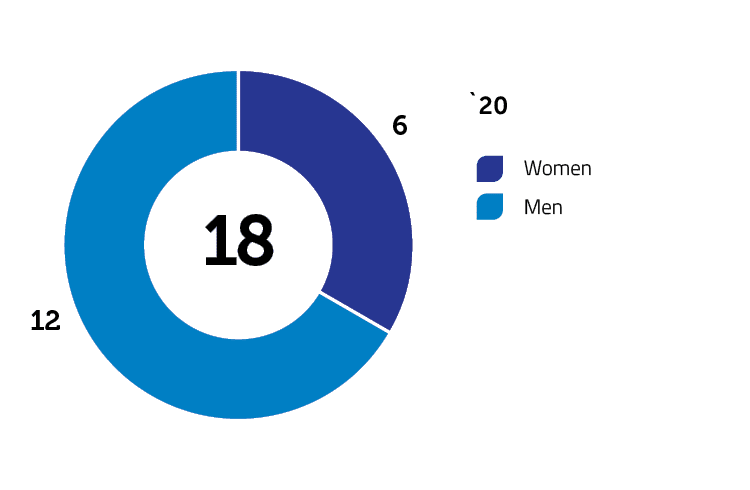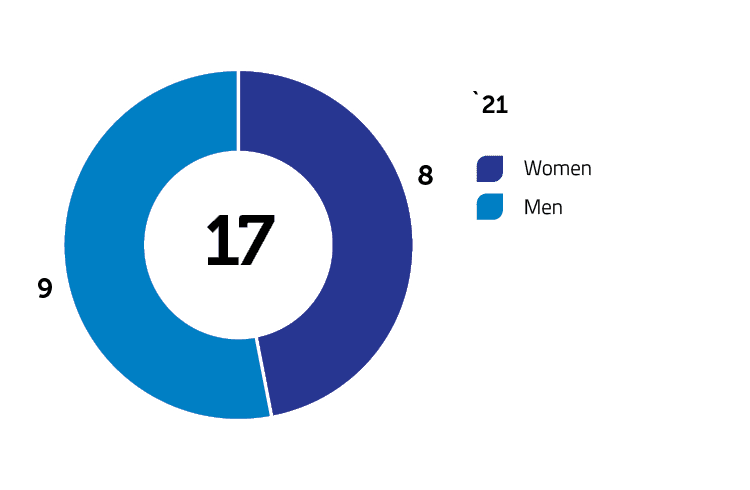 Recruiting:
Our benefits extend to the opportunity to grow professionally. Our recruitment and selection policy for vacancies or new positions, as well as the succession plan for certain categories of key positions, provide that the first category of recruitment sources is internal (if the professional profile corresponds to the requirements of the vacancy).
A newly added practice is the welcome gift. It is tailored to the colleague's future work, but all gifts must include a book.
Also as a novelty, we have built an onboarding program, customized for each area of activity, which includes role-specific training, settling into Autonom's extended team, understanding the organizational culture and how things happen around us, as well as ongoing support during the settling-in period through the assignment of a dedicated colleague. We are constantly looking to improve the induction and settling in process for new colleagues, as a result, each new employee has weekly discussions with the direct manager and get-to-know discussions with members of the teams they will be working with and beyond.
In addition, as soon as we join the organization, we want learning to be one of the unmissable elements of the daily routine, so we discuss the training plan and the recommended books for the first few months.
Evaluation of the onboarding process takes place after the first 2 months. Through a feedback questionnaire, we take the pulse of their integration into the new team and their adjustment to their new role.
Employee wellbeing
Our organizational culture emphasizes the continuous development of people and learning is one of the unmissable elements of the daily routine. We create the context for a relaxed and friendly atmosphere at work, being sure that a positive attitude contributes significantly to wellbeing, thus increasing motivation and productivity.
Through internal study "Values, 360 as a Team", we set out to see to what extent colleagues in each agency and department believe that the company's values are duly met by all members of the team they are part of. The main intention was to see if people are still living by the values they chose. The result showed an average of 3.46 for the five Autonom core values on a scale of 1 to 5.
The study showed people's willingness to express themselves freely, voluntarily and anonymously, confirming the intention and interest in developing an internal feedback mechanism.
We organized 3 national team buildings with colleagues from different departments and regions, with respect to safety measures. A total of 108 colleagues attended the 3 meetings, by sales, technical and regions/branches. The aim was to improve communication between remote colleagues and their counterparts, optimize operational tasks and working procedures and get to know colleagues on a more personal level to mitigate conflicts.
The monthly meetings aim to increase transparency in internal communication. Through these, we ensure the perpetuation of the defining elements of the Autonom culture and related management principles: discussions about centralizing figures for good applied financial education, icebreakers for better team bonding, discussions about monthly books and innovations to maximize their impact and usefulness, the recommended element of learning from each such session whereby anyone can teach anyone anything, even if it is not directly related to the business side.
Diversity, Equality and Human Rights
At Autonom, we accept and encourage diversity and do not tolerate any hostile behavior in this regard. We will always treat this issue with the utmost care and ensure that human rights are always complied with in our company and in other external contexts related to our company. We value gender equality and have a significant representation of women in management positions.
We believe that all citizens have equal rights and that diversity is an important element of a strong society and we strive to contribute to an inclusive world by promoting this value in our daily work.
At Autonom, the right to work is not restricted for any employee and everyone has equal opportunities. Any form of direct or indirect discrimination based on age, gender, nationality, religion, physical or mental disability, ethnicity, political choice, sexual orientation or any other personal characteristics considered disadvantaged by law is strictly prohibited.
In addition to complying with national legislation, we use it as a benchmark principle developed at international level, such as the European Convention on Human Rights and the Universal Declaration of Human Rights.
Employees in management positions and evolution compared to year level previous:
Employees in management positions

2020

2021

/ of which:

Number

Age 30-50 years

Number

Age 30-50 years

Women

16

15

16

15

%

94%

94%

Men

24

23

22

21

%

93%

95%

TOTAL

40

95%

38

95%
Distribution of employees by age and gender and evolution compared to the previous year's level:
| Year | 2020 | 2021 |
| --- | --- | --- |
| Below 30 years | 148 | 201 |
| Women | 40 | 52 |
| Men | 108 | 149 |
| % | 49.33% | 54.32% |
| 30-50 years | 148 | 165 |
| Women | 54 | 65 |
| Men | 94 | 100 |
| % | 49.33% | 44.59% |
| Over 50 years | 4 | 4 |
| Women | 1 | 1 |
| Men | 3 | 3 |
| % | 1.34% | 1.09% |
Mitigating discrimination:
All our employees are given equal opportunities, so recruitment, hiring and promotion within the company is based strictly on criteria related to the competence and performance of the employee.
The selection and promotion of people is based solely on competence. We are open to diversity and strive to provide an efficient and pleasant working environment with a balanced work-life balance.
Our employee profile is not about age, but about enthusiasm and passion, not about gender, but about professionalism, not about ethnicity, but about skills and competences.
There were no reported incidents of discrimination at our organization in 2021.
Our policy can be found at https://www.autonom.com/anti-slavery- policy.
Working Conditions
We are engaged in providing the best solutions for our employees, in order to have proper working conditions. We customize and supply all our working areas with suitable assets for our business nature.
In addition to the benefits mentioned above, as we are concerned about the well-being of our employees, we pay attention to the conditions in which they work and to the aspects that can lead to reducing stress in the workplace and creating a relaxed atmosphere. The infrastructure of the office spaces is friendly and ergonomic, with seating areas and meeting rooms.
Furthermore, as we encourage reading, each location has its own library, making it easier for employees to access books and to read even during working hours. There is also the possibility to access a significant number of books in digital or audio format.
Workspaces are also equipped with kitchens, encouraging time together during lunch breaks. Depending on the location, employees have access to coffee, tea, fruits or natural juices.