Materiality analysis
The internal and external stakeholder consultation part is a defining part in the development of the materiality matrix.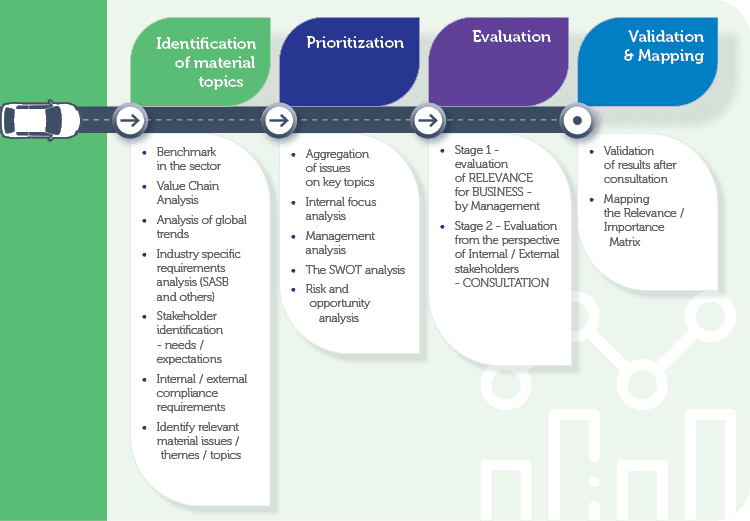 The materiality analysis went through two key stages. As a first step at the time of defining the Sustainability Strategy, a dedicated focus group, consisting of executive and operational management, was created in the second quarter of 2021 to identify and define our materiality themes, business risks and opportunities, and the needs and interests of key stakeholder groups. The analysis was conducted considering the value chain and the extent of our interactions with different stakeholders as well as the relevant material issues or themes at each stage in the chain. We reflected and concluded on the impact our work has on stakeholders and the community, at environmental, social and governance levels. On the other hand it was very important to define the external influencing factors that could affect the business or lead to risks or opportunities from a business relevance perspective. Thus after focus analysis with management it was agreed on a short list of material topics of interest to the business which were categorized as relevant to the three strategic action areas: ENVIRONMENT, PEOPLE and COMMUNITY, SUSTAINABLE BUSINESS and GOVERNANCE.
In the second phase we engaged a wide range of stakeholders in public consultation from February to March 2022. We were interested in their views on the impact Autonom is generating in the community and asked for recommendations on all material issues so that we could consider new approaches in line with the need addressed. Some of the recommendations we have received address actions that we have already taken and are working on and some are relevant and we will address them throughout 2022 to understand how we can contribute.
The material themes relevant to the company are:
Materiality Aspects

Description

ENVIRONMENT

Energy & Fuel Management

We are aware that we need to involve consistent resources in managing all the energy and fuel involved in our business daily routine, in order to reach a level of optimization in this regard. We continuously work on maintaining appropriate database tools which can offer us a straight overview regarding our level of consumption, highlighting the areas which need improvement.

Waste & Hazardous Materials Management

The outcomes from our activity can generate some important negative impacts on the environment and economy. We put efforts on making a correct waste management by maintaining proper recycling actions.

GHG Emissions and Climate Impact

We fully understand our impact on climate change due to our activities. We are committed and willing to engage all efforts needed to reduce the CO2 emissions generated by our activity, directly and indirectly. We strongly believe that our actions in this regard will overcome important milestones for our business resilience.

PEOPLE & COMMUNITY

Community involvement

We took the responsibility of being involved in the community in a very strong sense, ever since we started our business. Beginning with 2013 we keep materializing our vision through more than 600 projects carried out mainly via Autonom Foundation. Furthermore, our employees are constantly engaged in other projects (education, social, sports), without the direct involvement of the Autonom Foundation.

Employees Health and Safety

We value our employee's integrity driven by the awareness regarding their role in our business success. Therefore, we always pay attention to their needs in terms of equipment, devices and instructions necessary to ensure a safe workplace.

Employee wellbeing and development

We put emphasis on a relaxed and friendly atmosphere at the workplace, being sure that a positive attitude is the right key for our employee's wellbeing. Also, we show openness when it comes to needs of development and we are careful to take into consideration everybody's professional development goals. We have a consistent training budget available for everybody and we emphasize personal development as daily practice and focus on topics in bianual evaluations.

Quality Education

We consider the business domain as being one of the most entitled actors in the society regarding knowledge sharing. This belief turned into a strong motivation for Autonom and leads us to a strong involvement in our communities, with positive impact in environmental and educational issues. We will continue our projects promoting learning and reading (ex: "A book I recommend" initiative), also increasing awareness on a more sustainable behavior and climate actions.

Equality Diversity & Human Rights

In Autonom, we accept and encourage diversity and we do not tolerate any kind of hostile behavior in this regard. We will always treat this aspect with maximum attention and we will make sure that Human Rights are always respected in our company and other external contexts related to our company. We value gender equality and we have a strong position regarding women in management positions.

Working conditions

We are engaged in providing the best solutions for our employees, in order to have proper working conditions. We customize and supply all our working areas with suitable assets for our business nature.

SUSTAINABLE BUSINESS & GOVERNANCE

Corporate Governance & Compliance

Autonom is led by its primely settled pillars, which empower all our corporate governance. We are driven by integrity and transparency with a systematic approach on risk management and compliance. We are sure that only by following our values and motivations we will reach satisfaction in all areas of our business, but mainly we will ensure the resilience of our business.

Supply Chain Management

We recognize the role of successful partnerships in our business and we struggle to ensure and maintain a structured approach along the entire supply chain. We have a close relationship with car dealers and we develop customized services together. We always promote the values of Autonom within our social and business interactions, value chain included.

Business Ethics & Transparency

We identify this materiality aspect as constituting the foundation of our company. We are clearly devoted to respect and promote all our motivations regarding our business: strong ethics, transparency and integrity.

Data Security

Our decision to provide high level services to our clients, involves strong awareness for data security. We enroll the right solutions to be able to further ensure the security of all client data we manage.

Customer satisfaction, Selling & Market Practice

We consider the loyal practices as being the only tools which can help us to show respect to the market's development and its exigent requirements. We also respect our competitors and we focus mainly on the market's needs. We will always be ready to develop new services and approaches in order to continue to be one of the most important providers of mobility in Romania.
The stakeholder consultation was launched to a long list of stakeholders. The consultation was carried out with stakeholders from Romania and other countries. A total of 456 responses were aggregated and evaluated. The split of responses is balanced at INTERNAL/EXTERNAL level. It can be seen that a large proportion of respondents are internal stakeholders (employees). The high number of responses from employees makes us happy because they have contributed to our important journey in sustainability performance reporting and defining important new actions.
The final quantification and evaluation of the results and the definition of the materiality matrix took into account certain limitations according to the stakeholder mapping results. Unfortunately from the neighbors no answers were received.
Recommendations received – denkstatt
| Category /Shareholder | Group of shareholders | Responses share, % |
| --- | --- | --- |
| INTERNAL | Agency employee / support function (Autonom) | 47.81 |
| EXTERNAL | Customer | 26.54 |
| EXTERNAL | Commercial services supplier | 11.18 |
| INTERNAL | Management / Shareholder (Autonom) | 4.39 |
| EXTERNAL | International / Local NGO / Professional Association | 2.85 |
| EXTERNAL | Investor / Analyst/ Bank representative | 2.19 |
| EXTERNAL | University / School / Kindergarten / Social center | 1.32 |
| EXTERNAL | Media (press / social-media) | 0.88 |
| EXTERNAL | Owner of space rented by the company | 0.88 |
| EXTERNAL | Utility supplier / waste management | 0.66 |
| EXTERNAL | Supplier of direct material/ raw materials | 0.44 |
| EXTERNAL | Public authority / Municipality | 0.44 |
| EXTERNAL | Competitor | 0.22 |
| EXTERNAL | Potential employee | 0.22 |
| EXTERNAL | Neighbors | 0.00 |
Received Recommendations
| Recommendations | Observations / Handover |
| --- | --- |
| Purchase of hybrid and electric cars for the rental fleet / Electrification of the rental car fleet | It is part of the substitution program according to the Sustainability Strategy |
| Selective collection initiatives in agencies | We have defined an internal program that will help us. We will continue to make progress in this segment |
| Facilitating the access of people with disabilities to the purchase / use of vehicles | We have had requests, we will internally create a simple process that will facilitate faster access in case of requests from interested parties |
| Promoting the concept of ridesharing and its benefits for both the community and the environment | We will study a potential collaboration in this field with local NGOs |
| Sports fundraising activities to support various foundations, tree planting, waste collection, etc. | We carry out projects in these areas. Please consult the CSR projects |
| Reduce paper consumption by digitizing processes | We have a project already launched and we are continuing by digitizing the internal processes further |
| Involvement and support of planting and greening activities | We are involved and will continue to be |
| Display of the pollution norm of each vehicle in the rental processes | It is considered by the operational team |
| LGBTQ awareness campaign | It will be addressed in Human Rights Policy |
| Hiring people with disabilities | We are working on a guide and considering its launch in 2023 |
| Promoting volunteer activities and those with an impact on local communities | We will increase the visibility for them, we address them at the moment but not enough |
| Financing of courses / trainings regarding health education in various social centers | We will analyze such a project towards potential launch in the community |
| Projects for professionalization and personal development of the teaching staff in rural area | We have developed and will continue to develop mentoring programs for teachers |
| Customer safety | We develop preventive leadership courses with our partners, which we have extended to our partners. We will continue. It is important for us but also for our customers |
| Campaigns to support the health system | We continuously support NGOs involved in supporting health systems and we will continue to collaborate with them on support issues in the future, it is part of the objectives of community involvement |
| Long-term approach to "green" investment projects, "green" financing, "green" bonds | It is part of our strategy with the development of the Sustainability Strategy launched in 2021 |
| Promoting volunteer activities and those with an impact on the local community, so that other collaborators, neighbors or clients can come to the aid and contribute to the success of the proposed project. | We will study internally the possibility of extending the potential for volunteering to external stakeholders |
Materiality Matrix
Delineating the material themes of the reporting and disclosure was based on two perspectives:
considering the potential scale of the impact in the community but considering the relevance of the potential impact to business

the internal and external scope of the material themes. Because it is different considering that the need and interest of some stakeholder groups had some limitations.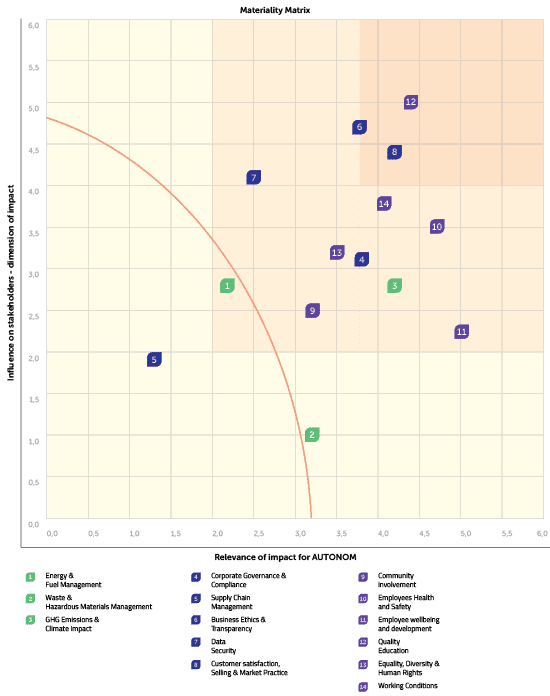 The limits of material themes
The content of this report has been defined with these limitations and interests in mind:
Dimension/Material Theme/Stakeholder

Scope/ Limits

INTERNAL

Limits

EXTERNAL

Limits

ENVIRONMENT

Energy & Fuel Management

AUT



C, F, IARB, AUP, M, ONG, U, COM



Waste & Hazardous Materials Management

AUT



F, AUP, ONG, C, M, V



GHG Emissions and Climate Impact

AUT

C, F, IARB, AUP, M, ONG, U, COM



SOCIAL

Community involvement

AUT



C, F, IARB, AUP, M, ONG, PA, U, V

Employees Health and Safety

AUT

C, F, IARB, AUP, M, ONG, PA



Employee wellbeing and development

AUT

C, F, IARB, AUP, M, ONG, PA, COM



Quality Education

AUT

C, F, IARB, AUP, M, U, ONG, PA



Equality Diversity & Human Rights

AUT

C, F, IARB, AUP, M, ONG, PA

Working conditions

AUT

C, F, IARB, AUP, M, ONG, PA, COM



BUSINESS

Corporate Governance & Compliance

AUT

C, F, IARB, AUP, M, ONG, PA, COM, U

Supply Chain Management

AUT



C, F, IARB, AUP, M, ONG, PA



Business Ethics & Transparency

AUT

C, F, IARB, AUP, M, ONG, PA, COM



Data Security

AUT

C, F, IARB, AUP, M, ONG, PA, COM



Customer satisfaction, Selling & Market Practice

AUT



C, F, IARB, AUP, M, ONG, COM
Note:
AUT – includes employees of Autonom, Management and Shareholders
IARB – includes Investors, Analysts and Bank representatives
F – includes Suppliers of commercial services, utilities, waste and material providers