Company profile
The Autonom Group is, through Autonom Services S.A., the most important independent player with Romanian capital in the car operational leasing and rent-a-car markets in Romania. Autonom Services S.A. is incorporated as a joint-stock company, with a registered office in Piatra Neamt, Fermelor Street, no 4. The company has the most extensive mobility network in Romania and is in the top 5 players, by turnover, in the main sectors of activity: operational leasing and car rental.
Integrated provider of modern mobility solutions for businesses and individuals, tailored to the needs of its customers;

National network of 46 agencies in 33 cities in Romania, a business model differentiated from competitors;

Agents abroad: Budapest and Debrecen in Hungary and Belgrade in Serbia;

Vehicle fleet at 31 December 2021: 9,672 motor vehicle (7,233 under operating leases, 2,439 rent-a-car);

Number of employees at 31 December 2021: 370;

Independent player with Romanian capital: Autonom International is the majority shareholder of Autonom Services S.A., with a participation of 98% of the share capital. The shareholders of Autonom International are Marius Ștefan and Dan Ștefan, in equal proportions;

Market experience consists of 16 years.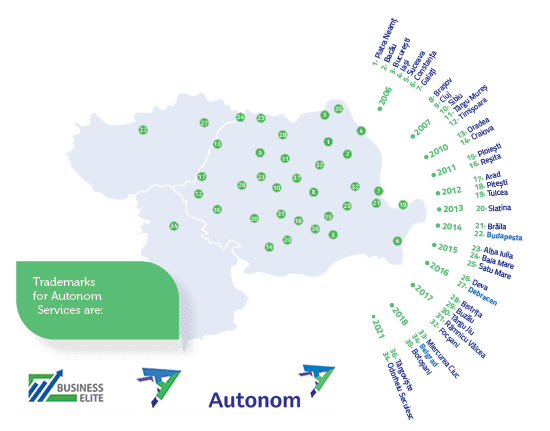 In 2018, Autonom became the first Romanian company to be included in the EBRD Blue Ribbon Programme, which includes 30 companies in 20 countries where the EBRD is present;

Autonom was selected at the first edition of "Made in Romania", organized by the Bucharest Stock Exchange, in the league of the 15 reference companies for the growth of the Romanian economy;

It is the only local company to have been named Best Employer for 5 years in a row (2014-2018), according to the global survey organized by AON Hewit;

In 2018 it joined the community of 123 WorldBlu-recognized organizations worldwide that promote democratic principles and encourage freedom in the workplace.
From start-up to prominent national player in the sustainable mobility services market
Autonom is a company with 100% Romanian capital, started in 2006 in Piatra Neamt;

In 2018, Autonom acquired BTOL, a company founded in 2001, with the aim of strengthening its customer portfolio, merger by absorption ending 1

st

of January 2021;

In 2019, the company changes its visual identity and makes its first bond issue, listed on the Bucharest Stock Exchange;

In June 2020, Fitch Ratings, one of the world's top three rating agencies, gave Autonom Services SA a "B+" Long-Term Issuer Default Rating (IDR). The corporate bond issue, which trades under the symbol AUT24E, has been given a separate 'B-' rating;

In 2021, Autonom announced the publication of the Sustainability Strategy and the issuance of the first Sustainability-Linked Bonds, a first on the Romanian capital market, worth €48.03 million, part of an MTN programme worth a total of €250 million. Sustainalytics considered the objectives set out in the Framework as "ambitious" and the KPI chosen as "very strong", while also confirming alignment with the ICMA (International Capital Market Association) Principles.
During its 16 years of activity, the Autonom Group has developed its portfolio of services and now offers its customers, companies and individuals, a variety of mobility solutions tailored to their needs.
The company operates in a business environment where competition is present and active. The operational leasing and rent-a-car markets are dominated by multinational leasing groups present in mature markets in Europe and the United States, regional and local banking groups, smaller domestic competitors and captive companies of car manufacturers.
Operational Leasing Market in Romania:
According to the latest data provided by ASLO in March 2022, the number of vehicles operated under operating leases has increased by 12% since the end of 2017, the last year for which information is available, from 68,600 in December 2017 to over 77,000 units under management at the end of 2021.

According to ASLO data, the most important player on the market at the moment is the company LeasePlan Romania which currently manages 14,111 vehicles, followed by Arval Service Lease with 12,710 units and ALD Automotive, with 10,309 units.
Rent-A-Car Market in Romania:
The car rental market is also dominated by multinational car rental groups present in mature markets in Europe and the United States (Avis, Europcar, Sixt, Hertz, Enterprise);

For 2019, the Company has estimated that the car rental market in Romania was around 11,000 units and the value size of this market could be around 80 million Euro. The company estimates that in 2019 it had a quote market share between 15% and 20%;

In 2020, the majority of short-term car rental companies focused on servicing individual customers and which are highly dependent on tourism and travel by the target public, have felt the effects of the crisis generated by spreading coronavirus. Car rentals to individuals represent a small share of Autonom's total revenue and therefore the impact of the COVID-19 pandemic was not as strong on the Company compared to other market players. Currently, we estimate that the rental market is around 8,000-9,000 cars.
The second-hand car market:
The second-hand car market is highly fragmented – there are sales through dedicated websites, specialized suppliers, car dealers, leasing and rent-a-car companies, as well as individually. The import of second-hand cars into Romania is quite significant. For this reason, it is difficult to estimate Autonom's market share.

According to ACAROM, in 2021, the number of used cars registered in Romania was 395,759 units, which represents a decrease of 2.29% compared to 2020, established at 405,045 units.
At the end of 2021, the Autonom Services team consisted of 370 employees, compared to 313 employees with active labor contracts at 31 December 2020. Autonom's employees are not organized in a union, but they have 4 employee representatives.
All Autonom employees are university graduates or undergraduates. The company pays great attention to the education of its employees. To this end, the company offers the most personalized learning experience through training, coaching, courses and support from company leaders.
Autonom is not part or member of a national or international initiative by 2021, to which they are obliged to report.
The company has recently joined the most complex international sustainability initiative, UN Global Compact, by which it also committed to respect the 10 Principles of responsible corporate governance, in terms of human rights, labor, environment and anticorruption and annually report on the progress (Our Participants | UN Global Compact)